October 13
@
10:30 pm
–
11:30 pm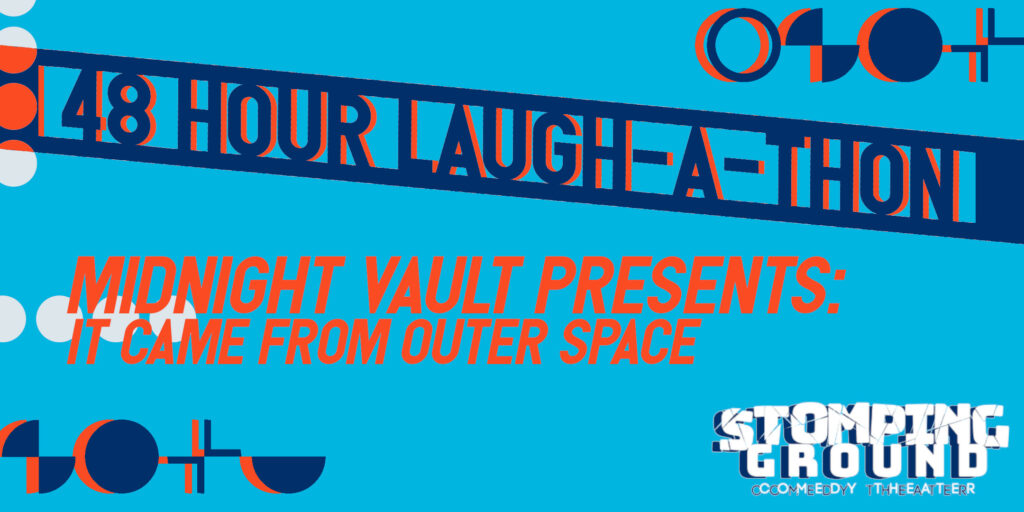 Stomping Ground Comedy, Dallas' only non-profit theater dedicated to comedy, will host the inaugural 48 Hour Laugh-A-Thon fundraiser October 13-15. This is a two-day, one-of-a-kind community event where TEN IMPROVISERS and ONE MUSICAL DIRECTOR perform for 48 HOURS STRAIGHT joined by over 50 guest acts. We're not kidding. And it's all for a good cause.
The Midnight Vault presents an improvised low-budget horror and sci-fi movie hosted by horror hosts Dr. SPLATula, BLOODona, and Seymore the Alien-Vampire Puppet in the style of late-night midnight movies. This month's installment is From Outer Space! inspired by movies like It Came From Outerspace, The Blob, and Killer Klowns from Outerspace! When a strange meteor lands in a small 1950s town, will the teenagers be able to convince the adults that there is an alien lifeform amongst them, gobbling up the citizens…or will the entire world be consumed? Come join us for all the campy and low-budget fun!
Midnight Vault features Whitney Peters, Kimber Martin, Lynsey Hale, Mike Christian, Josh Reus, Stephanie Bell, Michele Hill, Tristen Rouse, Will Holston, Melanie Robinson, and Joel Jenkins. It is directed by Greg Mihalik with technical direction by Justin Wayne.
All 48 Hour Laugh-A-Thon shows feature various iterations of our Core Performers: Sara Jackson, Greg Mihalik, Nathaniel Weathersby, Ianne Warshawsky, Melanie Robinson, Joshua Reus, Liz Robinson, Shenelle Peart, John Gerhardt, Lynsey Hale, and Musical Director Josh Diamond. 
Midnight Vault Presents is rated T for Teen. Tickets are $10 (plus fees) in advance or $14 at the door. Alcoholic beverages are allowed for all attendees over 21 years old; patrons are asked to enjoy them responsibly. For the most current information on what to expect when heading to Stomping Ground visit our FAQ page.
Psssst- Buy individual tickets for shows or save by purchasing a multi-show package. Want the ultimate deal while also being the ultimate supporter? Purchase the Laugh-A-Thon Pass for $250 (plus fees) and get access to all 48 hours of comedy, which includes 32 shows.