December 1
@
7:30 pm
–
8:30 pm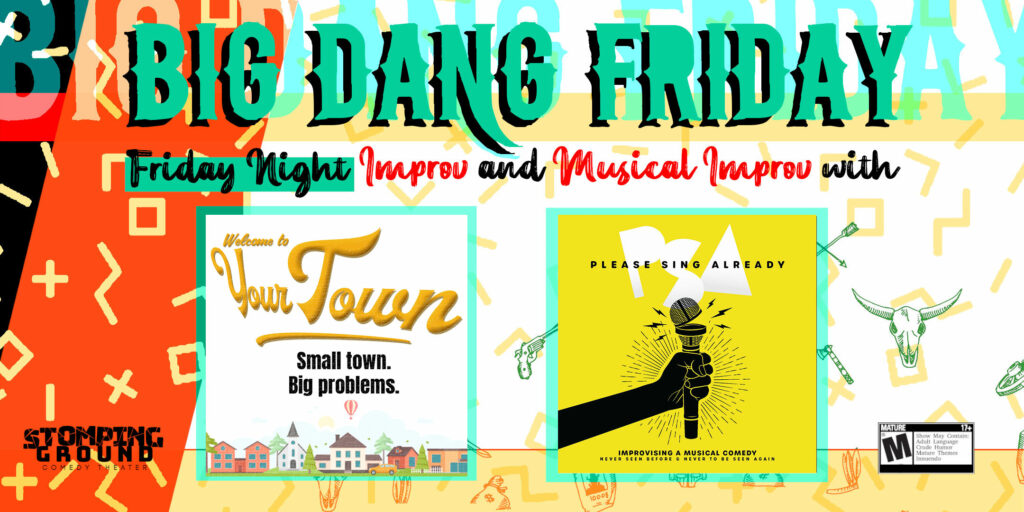 Friday night improv just got better; it's now Big Dang Friday! First Fridays of the month feature new improv house team Welcome To Your Town and musical improv house team PSA (Please Sing Already)!

Delve into the heart of Your Town's civic engagement in this immersive long-form show. Attend the town hall meeting alongside passionate residents, where you'll have the chance to bring up the topics for them to debate. Then, embark on a journey to understand the underlying affections and motivations that drive your fellow townsfolk. Welcome to Your Town features Justin Wayne, Abbie Nevins, Nick Vanden Heuvel, Natalia Trigo, Will Holston, Steven Martin, Nan Kirkpatrick, and Josh Reus. They are coached by Tim Miller.

Musical improv house team PSA does a brand-new improvised fairy tale based on a single audience-provided word. The audience will meet a hero who must overcome a villain and their own self-doubt in order to succeed. You'll hear big musical numbers, touching solos, and everything in between in this completely improvised show. PSA features Billy Betsill, Derek Miller, Ianne Warshawsky, Liz Robinson, Kimber Martin, Shenelle Peart, Tristen Rouse, Melanie Robinson, Milo Wilder,  and Morgan Sherrill. Musical Direction by Josh Diamond.
Ticket prices are $10 in advance and $14 at the door. Rated M for Mature/18+. Stomping Ground is BYOB. Alcoholic beverages are allowed for all attendees over 21 years old; patrons are asked to enjoy them responsibly. For the most current information on what to expect when heading to Stomping Ground visit our FAQ page.