March 31
@
7:30 pm
–
8:30 pm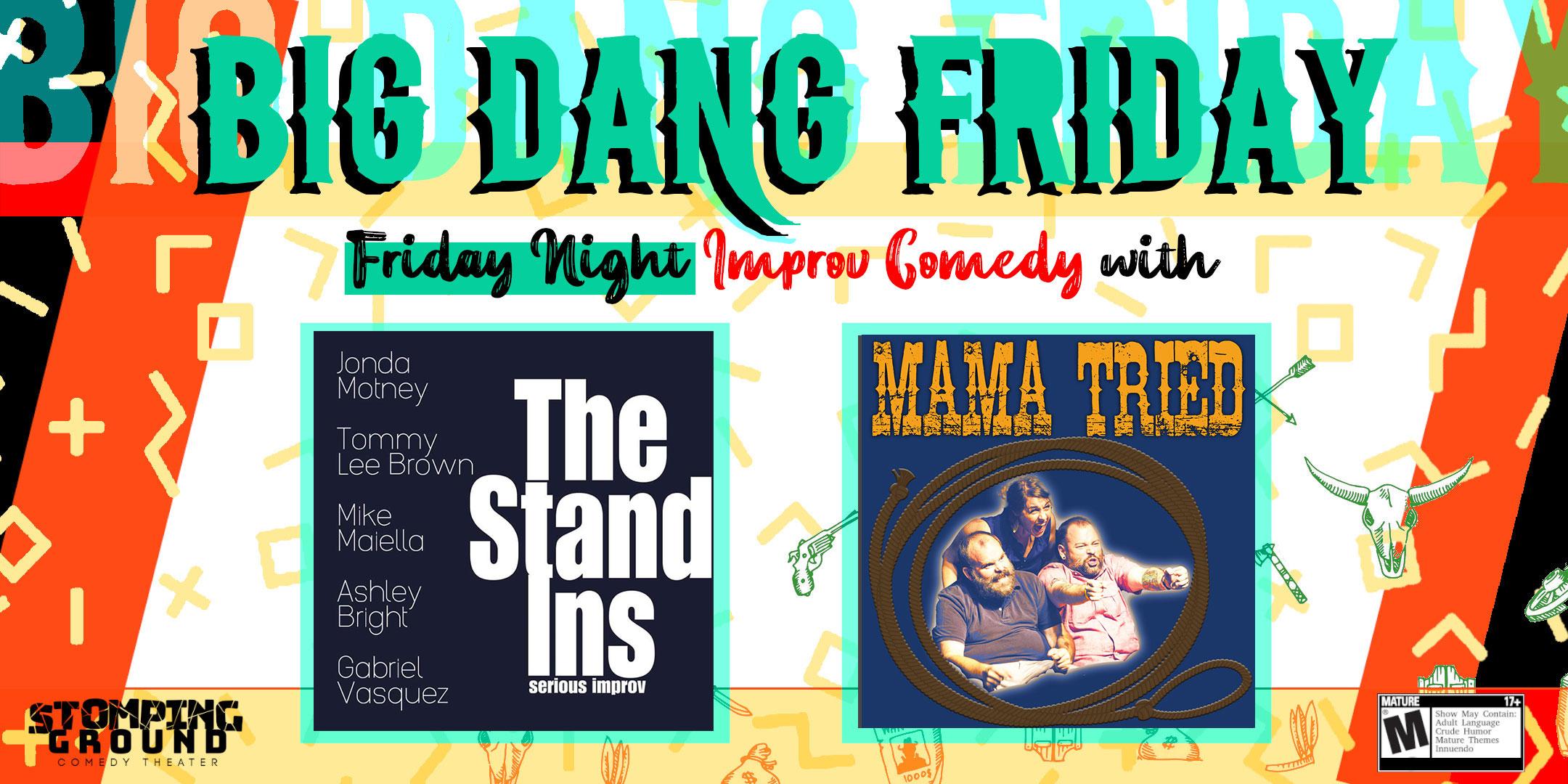 Live long-form improv featuring The Stand-Ins and Mama Tried!
Friday night improv just got better; it's now Big Dang Friday! Tonight's big dang show features Dallas improv vets The Stand-Ins and local favorites Mama Tried!
Kicking off the night will be The Stand-Ins. Some of the most seasoned improvisers ever assembled are standing by to make you laugh. The Stand-Ins are an elite cast of improvisers that are ready to take audience offers and suggestions and create a once-in-a-lifetime performance experience completely on the spot. No safety net. No pre-planning. Just wit. And a whole lot of funny! The Stand-Ins features Ashley Bright, Jonda Motney, Tommy Lee Brown, Mike Maiella, and Gabriel Vasquez.
Closing the night is Mama Tried. Join this hilarious team of long-form improvisers as they take you on an organic comedy journey. With seamless entrances and exits, musical undertones, and total transformations from scene to scene, we guarantee you've never experienced comedy quite like Mama Tried. Featuring Rachel Farmer, Chad Cline, Tyler Via, and Tim Yager.
Ticket prices are $10 in advance and $12 at the door. Rated M for Mature/18+. Stomping Ground is BYOB.
To purchase group ticket sales (5 or more tickets) at a discounted rate email artistic@stompinggroundcomedy.org.
Stomping Ground follows current CDC recommendations regarding mask-wearing. Social distancing should be practiced and you're encouraged to purchase tickets in advance. Alcoholic beverages are allowed for all attendees over 21 years old; patrons are asked to enjoy them responsibly. For the most current information on what to expect when heading to Stomping Ground visit our FAQ page.