November 25
@
7:30 pm
–
8:30 pm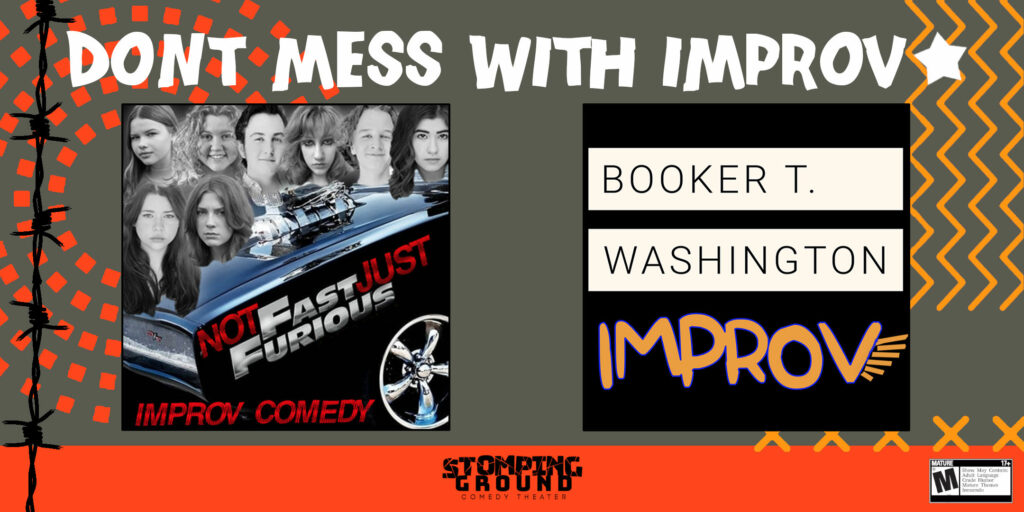 Grab your best pearl-snap shirt and head to Stomping Ground for Texas-sized laughs at Don't Mess with Improv. (Student Edition!) The November 25 show features the best young performers from the metroplex performing on-the-spot scenarios that will tickle your funny bone.
Kicking off the evening of comedy will be students from Booker T Washington High School for the Performing and Visual Arts Theatre Conservatory. These standouts from their improvisational comedy class will perform spontaneous theatre including characters and dialogue made up right before your eyes. Featuring Samantha Thompson, Meagan Murphy, Cross Ruiz, Mars Johnson, Esau Price, Jude Segrest, Da'Marion Gipson, Charles Brandon, Sylvia Buckner, Jayce Foster, and Xen Riley.
Closing out the night will be Not Fast, Just Furious. These talented teen whipper-snappers will dazzle the audience with fast-paced Whose Line is it Anyway-style games and scenes. Not Fast, Just Furious features Danna Dominguez, Bella Bernardini, Jillian Hunter, Latham Young, Reichen Young, Kendyll Robertson, Julia Strohmeyer, and Edelweiss Long. 
General Ticket Prices are $10 (plus fees) in advance and $14 at the door. Student (under 18) Ticket Prices are $5 (plus fees) in advance and $7 at the door. 
Rated E for Everyone. Stomping Ground is BYOB. Alcoholic beverages are allowed for all attendees over 21 years old; patrons are asked to enjoy them responsibly. For the most current information on what to expect when heading to Stomping Ground visit our FAQ page.