Grand Opening Comedy Bash
June 1, 2018 @ 8:00 pm

-

June 2, 2018 @ 11:59 pm

$10 – $50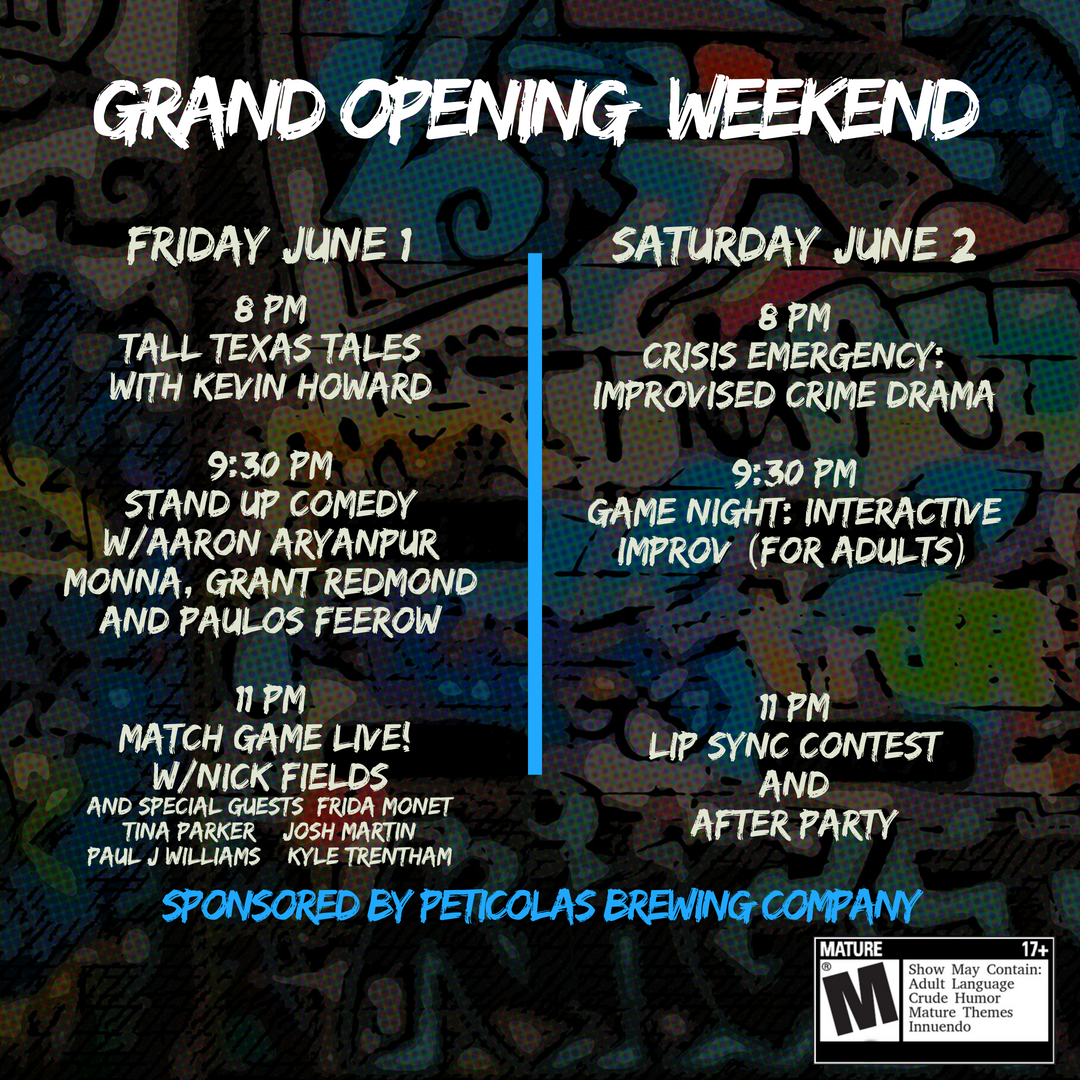 Stomping Ground Comedy has re-planned and and re-tooled the Grand Opening festivities. Friday night features the premiere Stomping Ground team Tall Texas Tales, performing scenes and songs based on true life monologues. A surprise guest monologist telling true tales will also be announced soon. Friday at 9:30 features some of the best local stand up comedians with Aaron Aryanpur hosting the evening and Grant Redmond, Paulos Feerow, and Monna stopping by. The late night 11 pm show on Friday is Match Game Live hosted by comedian Nick Fields. This show will feature a panel of Dallas "celebrity guests", including Comedians Paul J Williams and Kyle Trentham, Tina Parker of Better Call Saul and Breaking Bad, Josh Martin of Dragon Ball Z, and legendary Fort Worth "trash queen" Frida Monet.
On Saturday at 4:30 pm Stomping Ground is proud to present Irregular Nonsense, an improv team born out of classes at nonPareil Institute and our Improv for Life Program. The clever, out-of-the-box stylings of Trenton Lundgren, Trevor Poynorm, Jake Raybon , Kevin Sharp, Isaac Pinkus will leave you laughing and inspired.
Saturday night boast the debut of Stomping Ground's one-of-a-kind improv show, Crisis Emergency: An Improvised Crime Drama, which spoofs the familiar tropes of your favorite TV crime dramas. Saturday night at 9:30 pm features high-energy, fast-paced, interactive improv from Game Night, which features many members of the original DFW Ad-Libs. Saturday night at 11 pm will cap off the weekend a Lip Sync Contest and After-Party.
Multiple ticket packets are available for this event. This event is rated Mature/18+. Stomping Ground is a BYOB establishment but there will be free beer generously provided by Design District staple Peticolas Brewing Company for all guests 21 and up.
Stomping Ground will open at 7 pm on Friday; seating will begin 15 minutes to the start of the show. Stomping Ground will open at 3:30 pm on Saturday and seating will begin 15 minutes prior to the start of the show.
Tickets are not available as this event has passed.