Kids Improv for Anxiety
February 2 @ 10:00 am

-

12:00 pm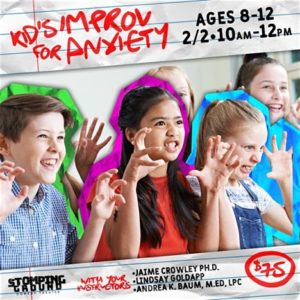 What your child will learn:
Easy and effective techniques to relieve anxiety and reframe thinking in a fun and interactive group environment
Improvisational Comedy and Therapeutic games
Mindfulness Skills
Cognitive Behavioral Therapy
Process and practice applying these techniques to real life.
Why Improv?
Research shows that improv promotes confidence and self-esteem while decreasing social anxiety. This workshop is for children 8-12 years old who experience anxiety or worried/negative thoughts from time to time. . Moose the Worry Mutt, a children's book to help with anxiety and negative thinking will be read and processed with fun improv games too! Improv promotes an accepting and supportive environment where natural learning can occur with ease. As a group, the children will have the opportunity to gain support from another and relate to similar worried thoughts.
About Us:
This workshop is taught by Andrea K. Baum M.Ed.,LPC, a psychotherapist also trained in improvisational comedy, Jaime Crowley, Psychologist and Author of Moose the Worry Mutt, and by Lindsay Goldapp, Artistic Director and Improv Instructor.