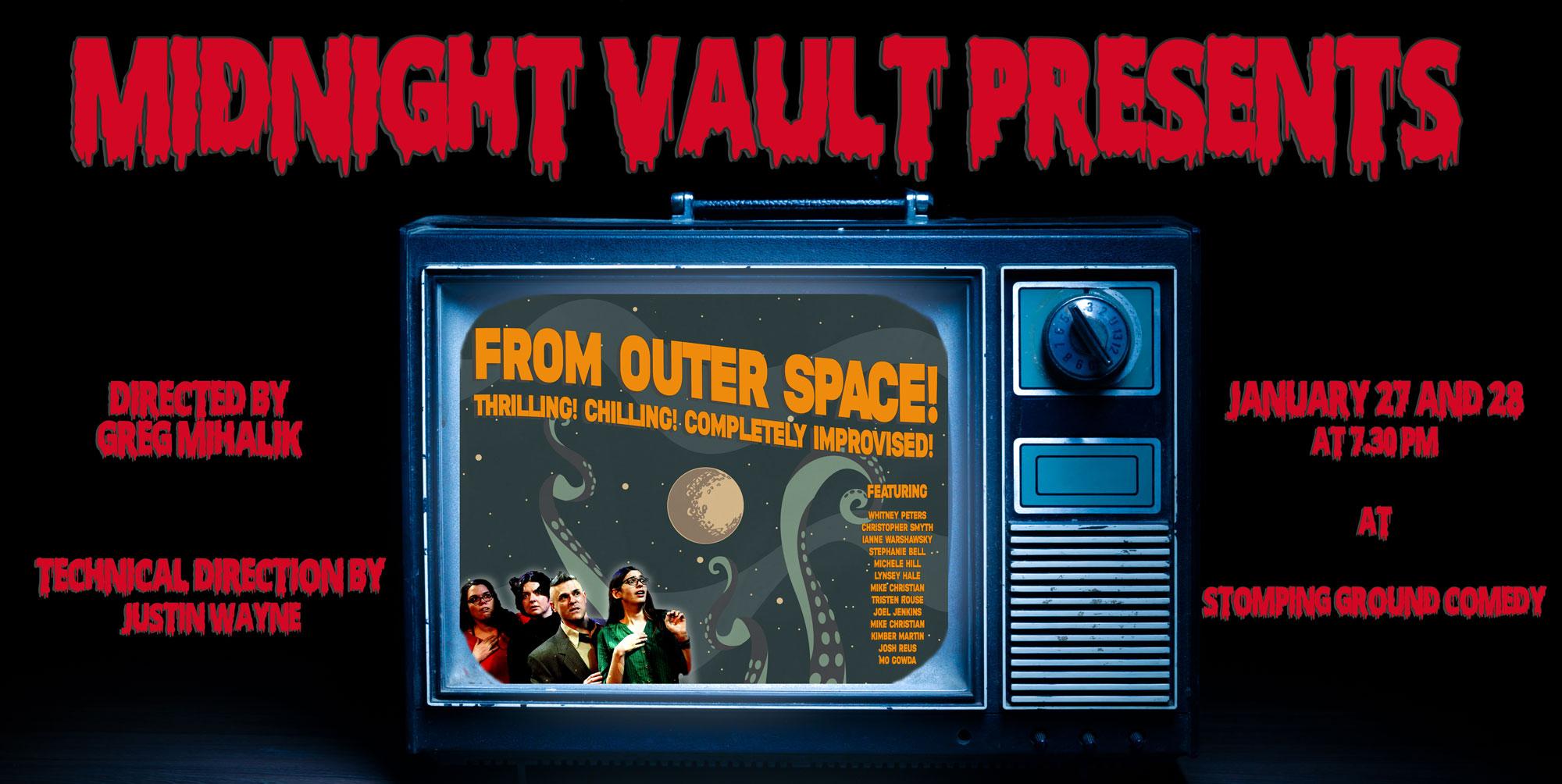 An improvised campy, low-budget film live onstage
The Midnight Vault presents an improvised low-budget horror and sci-fi movie hosted by horror hosts Dr. SPLATula, BLOODona, and Seymore the Alien-Vampire Puppet in the style of late-night midnight movies. This month's installment is From Outer Space! inspired by movies like It Came From Outerspace, The Blob, and Killer Klowns from Outerspace! When a strange meteor lands in a small 1950s town, will the teenagers be able to convince the adults that there is an alien lifeform amongst them, gobbling up the citizens…or will the entire world be consumed? Come join us for all the campy and low-budget fun!
M?idnight Vault features Christopher Smyth, Whitney Peters, Kimber Martin, Lynsey Hale, Ianne Warshawsky, Mike Christian, Josh Reus, Stephanie Bell, Michele Hill, Tristen Rouse, Mo Gowda, and Joel Jenkins. It also features and is directed by Greg Mihalik with technical direction by Justin Wayne.
This show is rated T for Teen (Parental Discretion Advised. Ticket Prices are $15 in advance and $18 at the door. Stomping Ground is BYOB.
To purchase group ticket sales (5 or more tickets) at a discounted rate email artistic@stompinggroundcomedy.org.
Stomping Ground follows current CDC recommendations regarding mask-wearing. Social distancing should be practiced and we encourage you to purchase tickets in advance. Alcoholic beverages are allowed for all attendees over 21 years old; patrons are asked to enjoy them responsibly. For the most current information on what to expect when heading to Stomping Ground visit our FAQ page.