Women of Candor presents: BLACK GIRL MAGIC
July 13, 2019 @ 8:00 pm

-

9:30 pm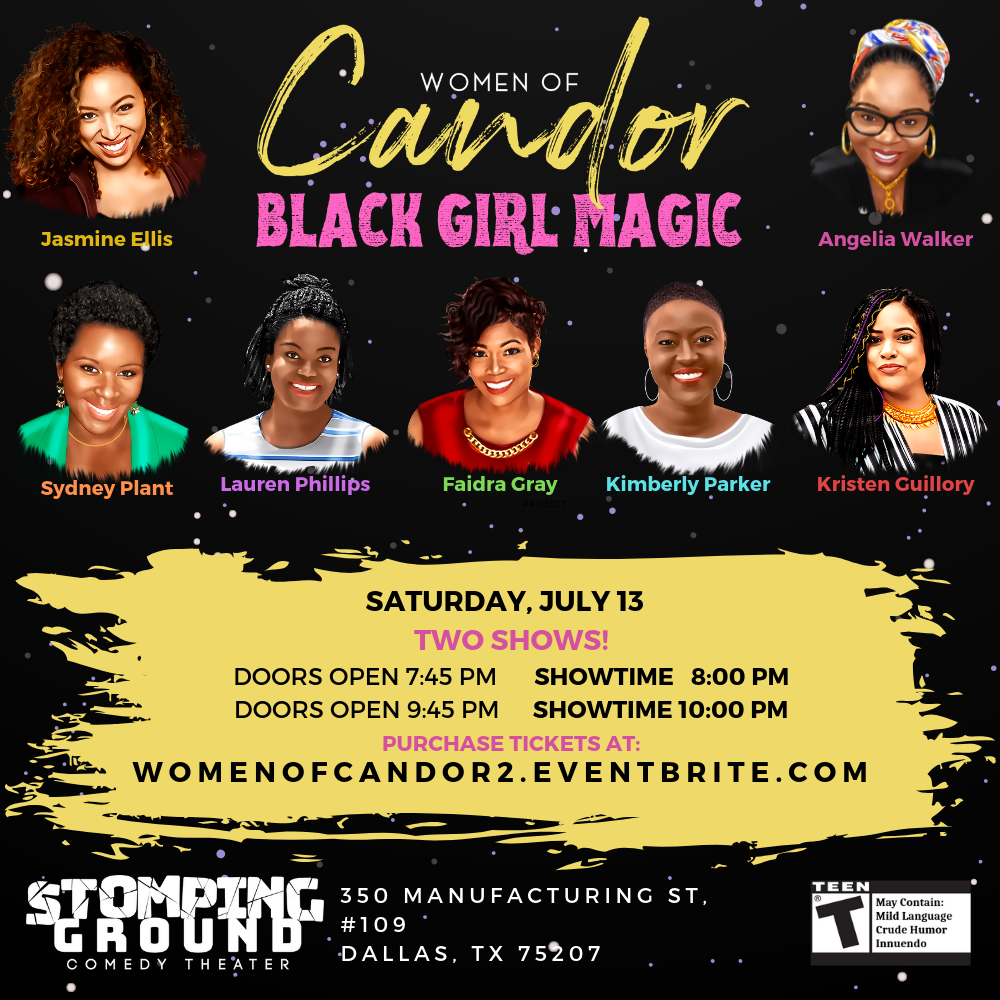 After selling out our May 2019 debut show, WE ARE BACK!! WITH 2 SHOWS at 8 and 10 pm on Saturday, July 13.
We have assembled a DYNAMIC cast of storytellers and comedians in order to get our voices out in the DFW area in a fresh and exciting way. Stories and Stand Up routines will focus on personal journeys related to the theme of "BLACK GIRL MAGIC".
BLACK GIRL MAGIC CAST
Jasmine Ellis, Comedian
Faidra Gray, Storyteller
Kristen Guillory, Producer & Storyteller
Kimberly Parker, Storyteller
Lauren Phillips, Storyteller
Sydney Plant, Producer
Angelia Walker, Comedian
Click here for Tickets: https://www.eventbrite.com/e/women-of-candor-presents-black-girl-magic-tickets-63003547306
This show is rated T for Teen for content. Age: 18+. Stomping Ground is BYOB. Seating begins 15 minutes prior to the start of the show. Doors open at 7:45 PM and 9:45 PM.
Women of Candor is the brainchild of Dr. Kristen Guillory and Sydney Plant. They both have an intense desire and passion to provide more spaces for Black Women to share their stories…..to share their truths! As descendants of a people whose voices were all they had at times, they cherish the oral traditions of African-Americans–from church testimonies to hip-hop–and enjoy the commonalities that our stories reveal.
We are Women of Candor
Candor- The Quality of Being Open and Honest
Sydney Plant's foray into live storytelling began at the Story Studio in New York. Her class showcase story was featured on the popular podcast Risk!, hosted by master storyteller Kevin Allison. Her style is often revealing and bold as she shares some of her most intimate and vulnerable moments with audiences. She furthered her training at the Dallas Comedy House to include improv and regularly performs with "Getting It", Dallas Comedy House's storytelling cast. For nearly two decades as a development professional, Sydney has used stories to raise millions of dollars for universities and hospitals to improve the lives of students and patients. She has the ability to tell stories that compel people to give and take action through various methods, ranging from individual conversations to direct marketing to thousands. Everyone has a story, and whether it's her own or someone else's, Sydney excels at connecting with others to make a difference.
Dr. Kristen Guillory, as featured on NBC and Fox affiliates as well as many podcasts, is a highly sought after international speaker, storyteller and speaker coach who has spoken over 600 times to over 80,000 people. Kristen believes in the connecting, freeing and healing power of stories and humor, which is quite evident in her interactive, humorous and transparent style of speaking whether it's hosting a hip-hop concert, leading a Fortune 50 corporate training, or keynoting an event for 1,000 people. Kristen is often the only woman or black speaker at various events and wants to change this. She launched her popular coaching programs in 2018- Finding Your Voice! Kristen was a professor for over 10 years, and most definitely incorporated storytelling in every single class she taught! She is also author of "Walking Through the Fog: Holding on to Hope When you Can't See the Sun" and "It's OK to Take a Break: 52 Tips on Self Care and Mental Wellness".