Stomping Ground held its first ever Staff Appreciation and Awards Party, organized by the Board of Directors and sponsored by Peticolas Brewery, Raising Canes, and Ferris Wheeler's Backyard & BBQ.
It was a night of laughter, fun, and awards!
Awards were voted upon by the staff and performers. Board Members Andrea Kyprianou Baum, Ashli McLeod, and Jessica Roth presented multiple awards to the staff and instructor team while Executive Directors Jocelyn Tiner, Lindsay Goldapp, Baum, and Lindsey Hertel handed out multiple awards to teams, shows, and performers!
There were also karaoke performances, including Danny Gallagher with a silently rousing Uptown Funk, Chris Sanders with Total Eclipse of the Heart, John Dixon with Gay Messiah, Ashley Jones with Maybe This Time, and a rousing group version of Como la Flor by Natalia Borja, Diane Michelle, Alicia Nava, Chris Sanders, and Tiffani Rodriguez just to name a few.
---
Here is a full list of all the winners of the night:
SG EMTs
These individuals were the pulse of SG on the weekends and their hard work, countless hours, and care kept the theater thriving!
Diane Michelle
Natalia Borja
Arturo Garcia
Tiffani Rodriguez
Greg Smith
Robbi Holman
---
SG Angels
SG could not stay afloat without the help of these individuals. Not only are they hard-working and kind, but also dependable, talented, and funny.
Danny Gallagher
Clint Gilbert
Ashley Jones
Alicia Nava
Austin Roberts
Erin Singleton
Jenny Stoneking
Cao Tran
Michael Corbett
Scott Salhanik
---
Staff Awards
Light at the End of the Tunnel Award– Most Likely to See the Positive When the Sh*t is Hitting the Fan: Jocelyn Tiner
White Night Award- Most Likely to Save the Day: Diane Michelle
Triple Threat Award– Most Involved and Good at Everything: Jacie Hood
Playground Award– Most Likely to Make Any Moment Working with Them Fun: Ashley Rountree
David Bowie Award– Never Fails to Make Magic When Given An Assignment: Brooks Powers
Mom Award– Always There to Listen To Your Problems, Give the Best Advice, but Still Call You Out On Your Sh*t: Lindsay Goldapp
Dad Award– Most Likely to Listen to Your Problems and Then Buy You a Beer: Cameron Goldapp
Loch Ness Award– Least Likely to Be Found: Aaron Aryanpur
Confetti Award– Most Likely to Find a Reason to Celebrate: Diane Michelle
Small Wonder Award– Most Likely to Spreadsheet your Problems Away and Create a Genius Solution: Jocelyn Tiner
Beyonce Award– Most Likely to Help Out When Needed and Look Fierce When Doing It: Lindsey Hertel
Mr. Nice Guy Award– Nicest and Most Helpful Instructor: Greg Mihalik
The Tarantino Award– Instructor Mostly Likely to Make You Have Your Biggest Breakthrough: Jason Folks
Mr. Fun Guy Award– Most Fun Instructor: Cameron Goldapp
The Feels Award– Instructor Most Likely to be Moved to Tears in Class and Connect with Students : Jason Folks
The Oprah Award– Most Inspiring Instructor : Rachel Farmer
The Cheerleader Award– Most Encouraging Instructor: Tyler Via
The Carebear Award– Instructor Who Cares About Their Students the Most: Greg Silva
---
Performer Awards
Oscar Award- Most Likely to Win a Real Oscar: Chris Sanders
Mommy Dearest Award- Most Likely to Play Your Mom in a Scene: Jacie Hood
Funny Bone Award- Most Likely to Get the Biggest Laughs: Jim Kuenzer
Killer Performer Award- Most Likely to Kill Someone in a Scene: Rachel Farmer
Clutz Award- Most Likely to Injure Themselves Onstage: Lauren Oxford
The Drifter Award- Most Likely to Go Out into the Audience During a Scene: Tyler Via
The Breaker Award- Most Likely to "Break" in a Scene: Meili Chao
The Stardom Award- Breakthrough Performer of the Year: Katie Dallas
The Hills Are Alive Award- Mostly Likely to Burst Into Song Onstage: John Dixon
Support Bra Award- Mostly Likely to Support You In a Scene: Logan Romero
Andy Kaufman Award- Always Has the Best Characters: Remington Fenter
Amazing Race Award- Most Likely to Amaze You: Jamie Zeske
Best Sketch Performer– Cotton Hensley
Best Musical Improviser- Greg Mihalik
Best Stand Up Comedian: Latrice Wilkerson
Best Performer– Lindsay Goldapp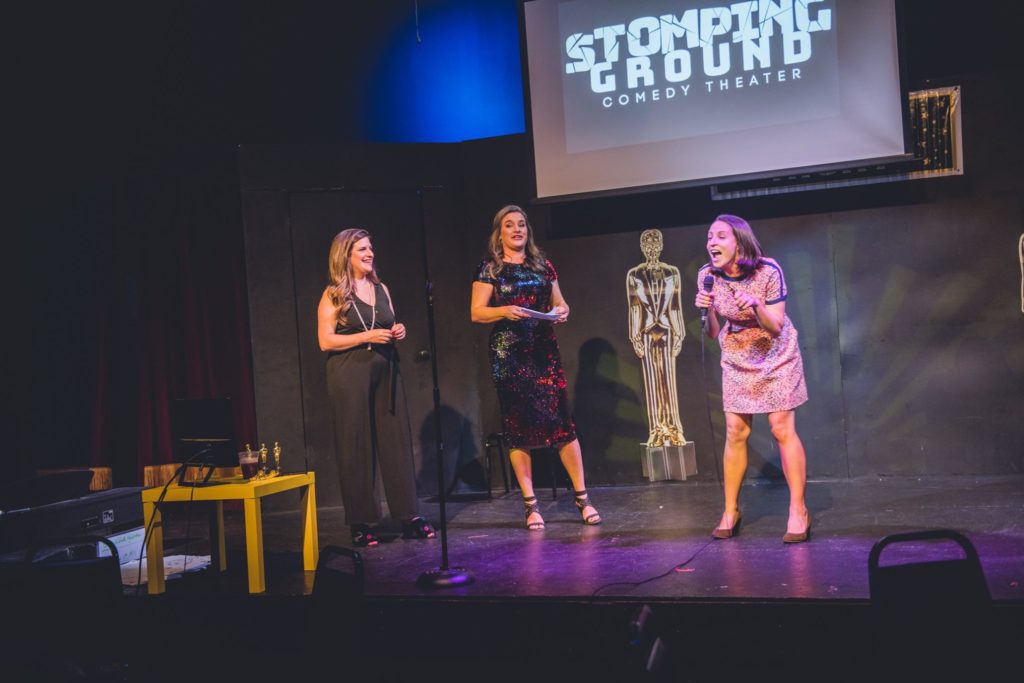 ---
Team & Show Awards
Chemistry Nerd Award- Team/Show with the Best Chemistry: Hometown Heroes
Pig Award- Team/Show Most Likely to Make You Laugh So Hard You Snort: Irregular Nonsense
Wild Thing Award- Team/Show With the Wildest Characters: Texas Sketch Show Massacre
Energizer Bunny Award- Team/Show With the Best Energy: D Word
Shock Yo Momma Award- Team/Show With the Most Absurd Content: Baby Cats
Unique New York Award- Team/Show With the Most Unique Format: Quest in Show
Best Musical Group: Sondheimlich Maneuver
Best House Team: Sound Garden
Best Sketch Show: Tech Tock
Best Visiting Show: Women of Candor
---
The night was one to remember. Special thanks to Peticolas, Ferris Wheeler's, Raising Cane's, August Edwards, Michael K Bruner Photography, and the Board of Directors for a great evening.
Click here for the full round up of photos by Michael Bruner.