The inaugural 48 Hour Laugh-A-Thon Fundraiser Weekend is coming October 13-15.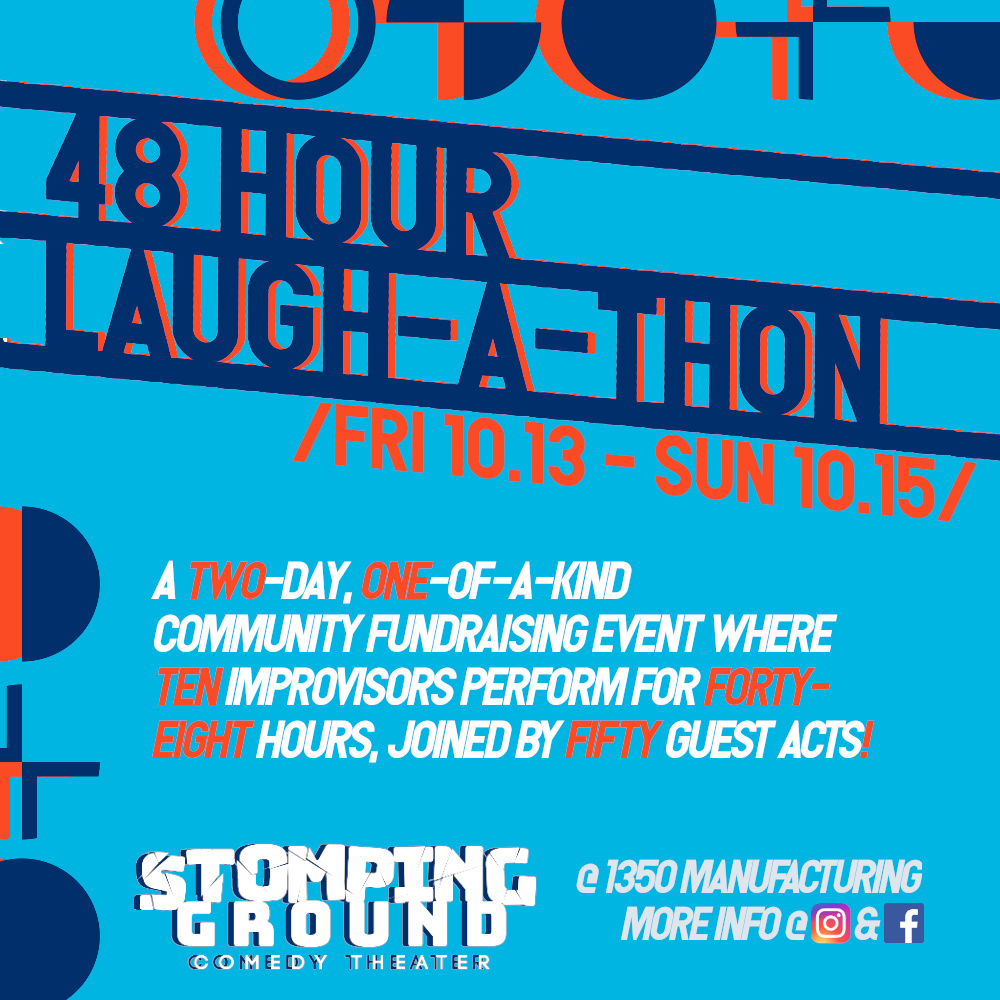 Ten comedians and one musical accompanist will be performing from Friday October 13 at 7:30 pm to the conclusion of the Sunday show at 9 pm October 15. They will be joining over 50 guest acts over the course of the weekend and we'll find out what happens when you combine very little sleep, caffeine, and the power of laughter. We're not kidding. But it's all for a good cause.
Meet Them Here:
Stomping Ground Comedy, Dallas' only non-profit theater dedicated to comedy, will host the inaugural 48 Hour Laugh-A-Thon fundraiser October 13-15. This is a two-day, one-of-a-kind community event where TEN IMPROVISERS perform for 48 HOURS STRAIGHT joined by over 50 guest acts. We're not kidding. And it's all for a good cause.
The event will feature comedy shows all weekend, including family-friendly shows during the day. And the fun won't stop just because the kids are in bed. We'll keep you laughing all through the night with late-night and early-morning shows for both night owls and early risers. Plus, the weekend will offer food trucks, giveaways, and lots of surprises.

Want to join in the fun? There will be community events like the late-night Pajama Jam Improv Jam and Ready Bench, where audience members can jump onstage with the pros.
Can't make it? No worries. We'll be live-streaming selected events and offering ways for the audience to get involved.
Stomping Ground Comedy is a 501(c)(3) charitable organization and all ticket sales and donations go back into our mission of connecting the community through comedy. What's our mission? To connect the community with comedy. And we won't stop 'til everyone's laughing. You can feel confident that your money goes to things like:
providing scholarships to make our comedy Training Center more inclusive
Providing Improv for Caregivers workshops to those caring for folks with Alzheimer's and dementia
Paying writers, producers, and performers
Providing scholarships for our Improv for Anxiety 7-week course
Offering more Improv for Life courses like Improv for Autism and Improv for Anxiety for Youth
Providing low-cost tickets to family-friendly shows
Paying instructors and staff a competitive wage
Building and sound improvements so we can better accommodate our students and patrons with sensory sensitivities
More programming for Youth & Teens
Buy individual tickets for shows or save by purchasing a multi-show package. Want the ultimate deal while also being the ultimate supporter? Purchase the Laugh-A-Thon Pass for $250 (plus fees) and get access to all 48 hours of comedy, which includes 32 shows.

2023 Improvathon Full Show Schedule

Friday, October 13:
7:30 pm- The Thunderdome9:00 pm- Whose Anxiety is it Anyway?10:30 pm- Midnight Vault Presents: Zombies

Saturday, October 14
12:00 am- Tossed Salad: A Late Night Dirty Stand-Up Show1:30 am- Greathouse Playhouse with special guests Midnight Diner3:00 am- The After-After Party: A Debauched Storytelling Show4:30 am- Comedy Truth or Dare6:00 am- Community Spotlight with New News News Crew, Mic Droppings, and Swiped!7:30 am- Wake Up Stomping Ground!9:00 am- Community Spotlight with Von & Jared, KEVIN!, and Outlast10:30 am- Buzzed: Improv Drinking Game Show (Brunch Edition)12:00 pm- Live Dramatic Readings of Scenes from The Real Housewives1:30 pm- ParkerGames Live!3:00 pm- Wholesome: A Clean Stand-Up Comedy Show4:30 pm- SideScroll: The Improvised RPG6:00 pm- Spaghetti Confetti: A Famili-Friendli Improvised Musical7:30 pm- SG Spotlight Presents: Alumni Stand-Up9:00 pm- My F*cked Up Family10:30 pm- Crime Night (2 hr show)

Sunday, October 15
1:30 am- Late Night Mixer & Pajama Improv Jam3:00 am- David Parson's One-Man Comedy Show4:30 am- Late Night Bites (2 hr show)7:30 am- Wake Up Stomping Ground!9:00 am- Comedy Church Presents: Ready Bench10:30 am- Comedy Church Presents: Pup 'Prov12:00 pm- Community Spotlight: Tuned out, 8I8HT 8Y8S, Caught Up in the Hoo Ha1:30 pm- SG Spotlight Presents: Kids' Improv3:00 pm- SG Spotlight Presents: Improv Students4:30 pm- Community Spotlight: Don't Broken, Not Fixin'!, Surrender Dorothy, Singprovisers6:00 pm- Community Spotlight- Please Sing Already, Middle-Aged Southern Women, PB & Jest7:30 pm- Broadway(ish)

Show ratings vary. Stomping Ground is BYOB. Alcoholic beverages are allowed for all attendees over 21 years old; patrons are asked to enjoy them responsibly. For the most current information on what to expect when heading to Stomping Ground visit our FAQ page.
Interested in being a sponsor for the event or for one of the performers?
You or your company will be the Belle of the Ball and Sponsorships start as low as $500. Email liz@stompinggroundcomedy.org to let us know you're interested!