A message to our donors: Thank you so much for all of the support you have given us over the years. If you are interested in becoming a corporate sponsor, please contact development@stompinggroundcomedy.org.
Corporate Donors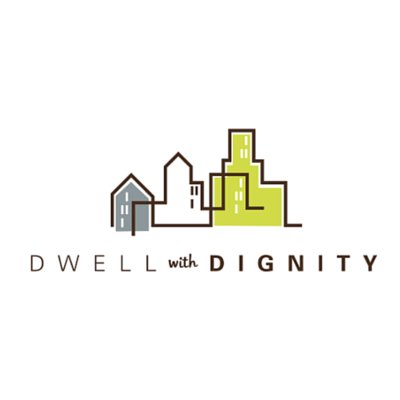 Dwell with Dignity designs and installs complete home interiors for families who desperately need an environment that will support health and wellness. We empower families to lead their best lives and to thrive in a safe, functional, and beautiful environment.
Individual Donors
We are so grateful to the individuals who contributed to the opening of our theater, and to those who continue to support our mission of connecting the community through comedy.
Merriment Makers
($9,999-$5,000)
Marshall Long
Allen & Cathy Goldapp
Amusement Allies
($4,999-$1,000)
David Baum
Dr. Mary Kyprianou
Seth Mitchell
E Moody
Cackle Companions
($999-$500)
Curtis Clinesmith
Rebecca Davidson
Paul Kleiman
Mario Kyprianou
Jocelyn & Daniel Tiner
Comedy Comrades
($499-$250)
Lauren Blake
Joanne Comparin
Jessica Cramer
Rich Graham
Patrick Galloway
Jose Quinones
Michelle & John Redding
Laura Wohlers
Jenny Wu & Dwayne Oyler
Laugh Lovers
($249-$100)
Mike Ahearn
The Alexander Family
Marie & Paul Bernardini
Mike & Natalie Boyle
Michael K Bruner
Steve Circeo
Bill Cochran
Lizzie Cochran
Kyle Cook
Alex Dolezal
Daniel Fisherman
K & K Frick
Casey Green
GroMo Agency
Jason & Valerie Hawthorne
Stu Hill
Elizabeth James
Tori & Casey Jones
Joseph Jones
Daniel Leavitt
Talia & David McCallister
Chase Miller
Gavin & Maria Olds
Andy & Amy Oyler
Rachel & Jordee Parker-Jordan
Jeff Patton
Wendy & Ryan Rousseau
Becca Shivers
Julia Silge
Kathryn Renée Thomas
Dawn Whalen-Theiss
Dr. John & Sarah Yaft
Play Pals
($99-$1)
Emily Aberg
Kristen Acevedo
Mimi van Amerongen
Neil Arsenty
Emily Ball
Emily Claire Baudot
The Beam Family
Jessa & Jared Berger
Merri Brewer
Tim Brewer
Clinton Broyles
Maria Busico de Flight
Magen Bybee
Clay C.
Marilou Canon
Jessica Cavanah
Megan Cernoch
Tanya Chase
Nkechi Chibueze
Mitchell Clemons
Bobbie Cline
Breann Colpitts
Michael Corbett
Angelita Crawford
Drew Current
Sarah Davidson
Sally Diamond
Dawn Douglass
Katy Evans & Shahyan Jahani
Tonya Ewalt
Scott Field at Third Coast Comedy Club
Brittany Flurry
Clayton A. Gates
Danielle Georgiou
Clint Gilbert
Ginger Goldman
Steven Good
Jason Hackett
Amanda Hahn
Joe Halbouty
Houston Hardaway
HariB
Luci Harris
Jason Hensel
Heylee Heep
Michelle Holloman
Rob Howe
Tina & Andrew Jaxling
Dan Jessup
Brad Johnson
Ridley Kemp
Ravi Kiran
Michael Kurtz
Kate Lambert
Jessica Layman
Jane R LeBlanc
Ron Lechler
Linus Lee
Jane Leyderman
Darcy Littlefield
Matt Lyle
Micah Lyles
Halley Mayo
Kate Mayo
Krista McCrimmon
Kathryn Mckellar
Dave & Teresa Meek
Nick Melita
Merlin Works Institute of Improvisation
Lisa Michalsky
Kristal Milazzo
Shiloh & Shelby Modisett
Lucas & Amy Moody
Brett & Jessica Noteware
Sharon & John Oyler
THE Dharmesh Patel
Sydney Plant
The Rezniks
Nathan Rice
Adal Rifai
Logan Romero
Angela Ross & Scott Cooper
Michael J Roth
Randy Snyder & Sue Huber
Dan Sturdivant
Jude Sutton
Darek Tatum
Steven Thomas
Margaret Thompson
Ryan Vicksell
Cesar Villa
Hunter West
Brooke Whoolery
Adrienne Williams
Courtney Williams
Mr. Willy
Lisa Vonk
Jamey Whitley
Kent Wicklander
Frances Wyatt
Sarah Wyatt
Nathan Ycas