Improv For Life
Comedy that cares.
Meet Andrea K. Baum, M.Ed., LPC
Andrea is the Co-Founder and Improv for Life Director of Stomping Ground. Using her experience as a psychotherapist, she has designed and created Improv For Life, a series of therapeutic improv classes and workshops for several unique needs populations. She uses her clinical expertise in psychotherapy to implement individualized needs based programming using improvisational comedy. Andrea's mission within Stomping Ground is to connect with local nonprofits and organizations in the Dallas community to spread the healing power of improv and create custom interactive programming for any group's needs. She works towards accessibility of comedy training programming for all. Andrea is a Licensed Professional Counselor and Certified Positive Discipline Educator with experience working with children, parents, adults, and people with brain injury, dementia, Alzheimer's, as well as their caregivers. She received her BS at Texas Christian University and her Master's of Education in Counseling at the University of North Texas. She has been learning and performing improv since 2014 and recently completed Stomping Ground's Training Center Program. She is trained in Positive Discipline Parenting, Play Therapy, Rapid Resolution Therapy, Biofeedback, Mindfulness, and Hypnosis–and has implemented all of these modalities within Improv for Life.
Why Improv?
Improv affects a range of human emotions and life skills and promotes emotional and mental health. Mindfulness, communication skills, social skills, emotional regulation, self-awareness, and interpersonal connections are just a few of the many gains embedded in the process of learning improv.
Take a class and see that the brain learns better when you are having fun!
Check out our Improv For Life Programs
We take an integrative approach using improvisational comedy to create psycho-educational programming for groups with unique needs.
Improv For Anxiety
Do you find it challenging to regulate your thoughts & emotions? Have you always wanted to take Improv or want to find out more about how you can apply Improv to improve your mental health?
Improving your emotional intelligence through learning Improv is not only beneficial but also fun! In this course, individuals are able to explore and process triggers together and find group cohesion through play and humor. This course teaches individuals how to become more aware of, express, and control their emotions, while learning how to connect in interpersonal relationships. Students will find this class to be light-hearted and funny while gaining support with others who have similar struggles. In addition to improv techniques that promote mental health and manage anxiety, therapeutic modalities such as mindfulness, CBT, Biofeedback, and Rapid Resolution Therapy will also be integrated throughout the class.
Kids Improv For Anxiety
The stress of our world is something we are all experiencing at the moment. Children especially are confused, anxious, sad, and disconnected. And Stomping Ground Comedy wants to continue to connect the world through therapeutic comedy during this time to create a space for children to learn how to express themselves and cope with their emotions. Humans need connection to thrive and this class aims to help kids be silly and have fun while increasing Emotional Intelligence!
What your child will learn:
Easy and effective techniques to relieve anxiety and reframe thinking in a fun and interactive group environment
Improvisational comedy and therapeutic games
Mindfulness skills
Cognitive Behavioral Therapy
Processes and tools for applying these techniques to real life
Improv For Autism and All Abilities
The therapeutic benefits that are naturally embedded in the learning and performing process of improvisation parallel the needs of a person with Autism or special needs. Each class is designed with handpicked improv games that benefit our students and their needs the most. Students practice social skills and behaviors in a supportive environment while gaining awareness and emotional expression. This class also serves as a support system where those with autism and special needs can connect with new friends.
What will you learn:
Improv!
Emotional Awareness
Self-Expression
Self-Confidence
Communication Skills
Verbal
Non-Verbal
Listening and Responding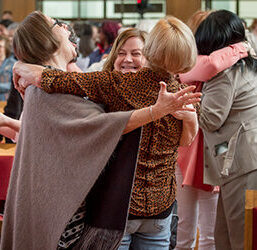 Improv For Caregivers
Flexibility. Adaptability. Spontaneity. Listening. Courage. Generosity. Acceptance. Trust. These are all characteristics of an excellent caregiver. They are also qualities of an excellent improv comedy performer. These worlds are parallel and the Improv for Caregivers class builds upon these parallels. Employing improv games and exercises, we provide caregivers with the methods to become better at what they do.
The concepts and techniques taught in this workshop will benefit both the caregiver and their loved one. Caregivers can relieve stress and form a more joyful bond with the person they are caring for. In turn, their loved one is also less frustrated and agitated and has an increased quality of life.
This fun and interactive workshop will focus on the following through improv activities:
Understanding your loved one's new and changing perspective of their environment.
New Nonverbal and Verbal ways to communicate with your changing loved one.
Listening and responding to difficult behaviors such as confusion, outbursts, and agitation.
How to step into your loved one's new world and respond appropriately instead of reality checking.
Diffusing difficult behavior.
Mindfulness techniques for you and your loved one to cope with stress, frustration, and anger.
Thanks to generous support from the AWARE Fund of The Dallas Foundation and the Hagen Family Foundation, Improv For Caregivers is free for Dallas County residents. Workshops are held the last Thursday of every month at 8:00 pm CST.
Email andrea@stompinggrouncomedy.org to invite Improv For Caregivers to your support group!
Improv For Seniors
Improv for Longevity is a series of psycho-educational interactive workshops using improvisational comedy geared towards increasing resiliency, joy, and longevity. These workshops are fun, engaging, therapeutic, and are led by a psychotherapist and a professional comedian. Each session is virtual and participants can choose to interact on video or using the chat feature. This workshop is appropriate for seniors with dementia and Alzheimer's. Participants are encouraged to be playful and live in the moment.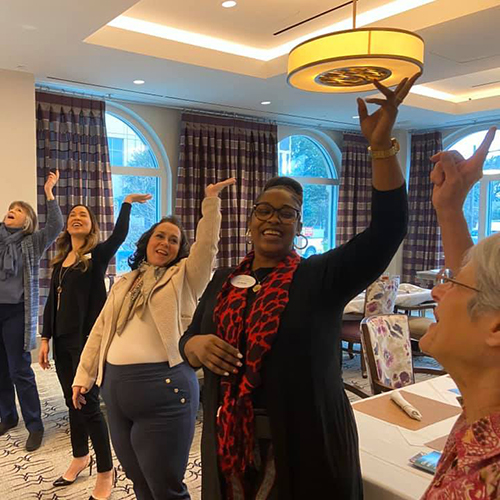 Improv For Nonprofits
Hire Stomping Ground to design a customized training workshop for the needs of your organization. Meet with our Improv for Life Director to build the perfect workshop for your non-profit. These workshops are fun, engaging, therapeutic, and are led by a psychotherapist and a professional comedian. Each session can be virtual and participants can choose to interact on video or using the chat feature. Here are just a few things you can choose to add to your workshop training:
Team Building
Self-Care
Stress-Management
Communication Skills
Leadership Skills
Authenticity and Personal Branding
Here are a few trainings Stomping Ground has created for our community nonprofits:
Communication and Relationships
Now more than ever our relationships are being tested as we are increasingly disconnected from our loved ones; and positive, thoughtful communication will be essential in order to thrive. This workshop focuses on non-verbal and verbal communication tactics to connect with loved ones and increase emotional intelligence within interpersonal relationships.
Lead your Most Fulfilling Life
The silver lining to these unprecedented times is that we have an unlimited amount of time to focus inward on self-improvement. This workshop aims to tap into your hidden gems and understand what your true potential is so that you can lead a more fulfilling life. You will discover what areas of your life may need more attention and where and how you can improve.
Mindfulness
Uncertainty can lead to an organic need to live in the moment and be present. This workshop aims to teach the therapeutic and scientific benefits of mindfulness and how to embed mindfulness skills into your daily life to help you feel lighter and more joyful.
Best Practices in a Virtual World
The virtual world of communication can be confusing, frustrating, and downright complicated! This workshop will teach simple tools and best practices for navigating the new virtual world we are now living in.
Improv For Healthcare Professionals
This workshop is designed to educate and encourage physicians and healthcare professionals to build rapport, create a therapeutic alliance and foster a connection with their patients in order to increase bedside manner and patient compliance, satisfaction, and follow-through of treatment. Through interactive improv games, doctors will experience and practice how to build on these skills.
The Cooped-Up Comedy Variety Show
Stomping Ground Comedy offers a one-of-a-kind live variety show that combines the spontaneity and energy of live, in-person performance on a virtual platform. The Cooped Up Comedy Variety Show features music, dancing, characters, special guests and much more; and audience members can enjoy from the safety of their computer screens! They can sing along to american standards and laugh at classic one-liners in a show that harkens back to the variety shows of yesteryear.