All fun. All business.
Taking improv off the stage and into the workplace.
Our Facilitators
The Stomping Ground Facilitators are not only veteran Improvisers, they are also experts in business with a knack for applying the principles of improv to your work. Talent Bios are provided upon assignment and as requested.
About Us
We take the same skills Improvisers use to create magic on stage and apply them to helping people and teams be better at their work. Using improv tools and techniques to create fun and engaging learning, we connect the dots between the methodology and your desired outcomes.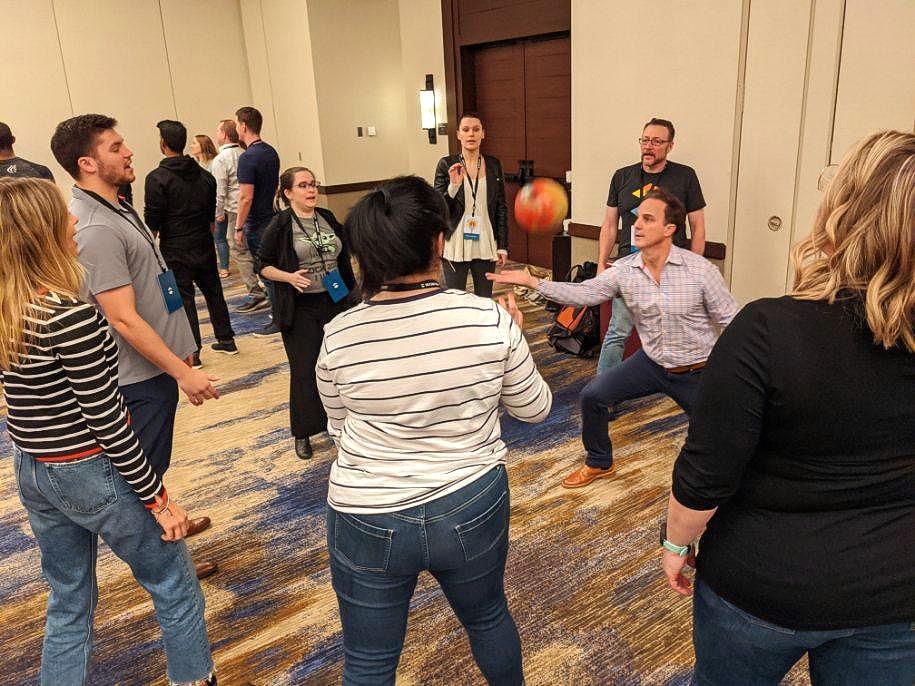 The Work
Down to Business
Improv skills are a game-changer for any industry. Improv allows us to try new things in a safe and supportive environment and encourages us to collaborate and create new ideas, break patterns, and be adaptable to any challenge that comes our way. The Stomping Ground Team has been working with businesses for over 15 years using the same techniques we use to create comedy to make teams better at what they do. Stomping Ground offers virtual or in-person team-building, skill development, and live entertainment – whatever you need to bust out of the doldrums, we've got your back.
Check out our Team Development and Skill Building Programs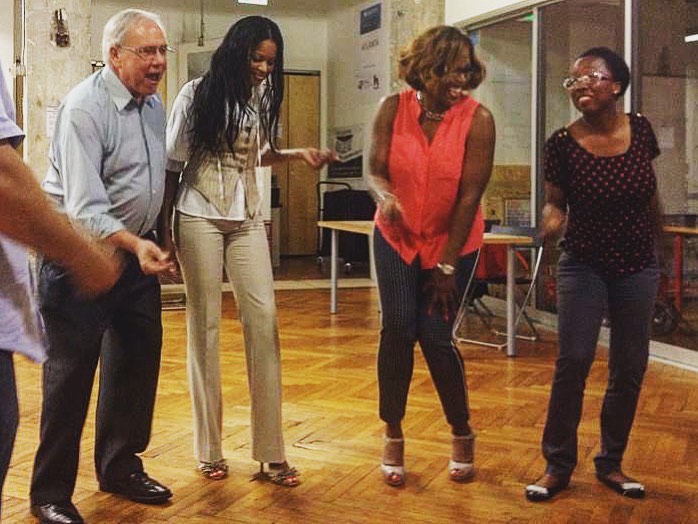 Build Your Own Live or Virtual Improv Experience
Team Development and Skill Building with Improvisation
We understand that every organization is different with its own set of unique needs.Our live and virtual workshops are designed with your desired outcomes in mind. We take your objectives and fold in the improvisational methodology to deliver an experiential, interactive and engaging learning program. We include traditional improv exercises, custom exercises built specifically for you, team challenges, skills practice built on your actual day to day work and co-create with you to discover the combination that best suits your needs. Check out our popular themes and let's collaborate to build the best session for your needs!
Here are a few ideas to get your juices flowing.
Creative & Innovative Solutions
Collaborating with coworkers & clients
Soft skills for difficult interactions
Public speaking & presentation skills
Managing employees through change
Getting comfortable with the uncomfortable
Infusing play & creativity into your work
Getting out of your own way
Saying "Yes, and" to ideas
Knowing when to Lead & when to Follow
Being present
Shifting rules & expectations in the face of change
Leadership Skills
Innovating the way you work
Listening & responding to needs of employees & clients
Stress Management and burnout tools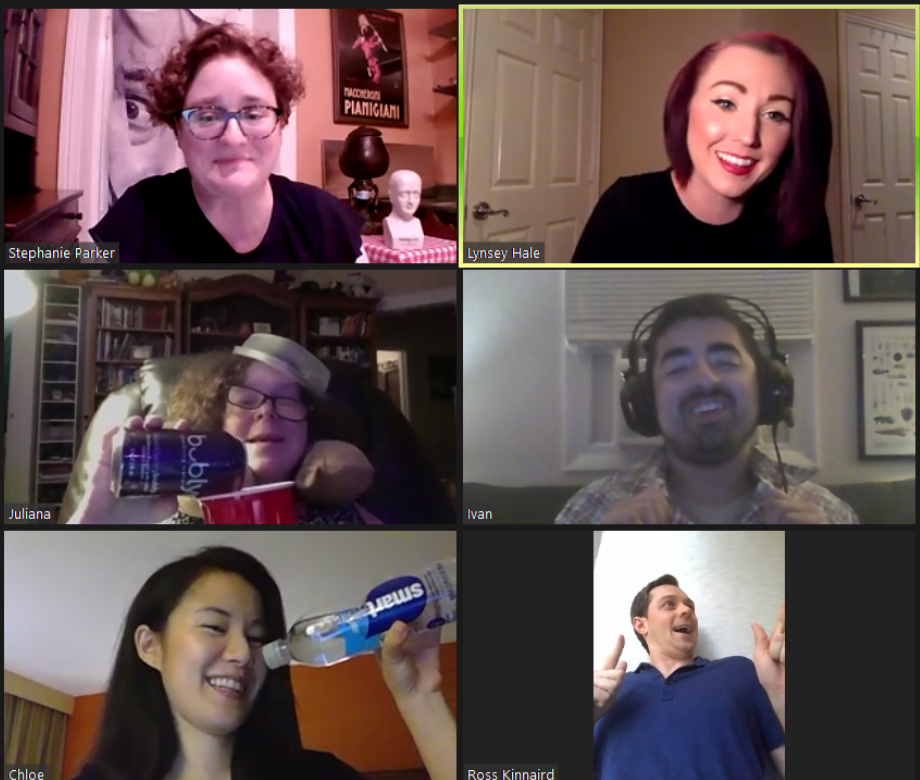 Team Building
Learning to Collaborate in a virtual landscape
Let's face it – we're all having to adapt to these challenging times. Some of us are improvising every day. So why not make it official…?
It is more important than ever for teams and organizations to stay connected in our ever-evolving world. Keeping team morale high and helping employees navigate this uncertain landscape can make a huge difference. This training is designed to help teams explore ways to communicate and collaborate even when disparate. Through improv-based exercises and games, participants will experience pure play and be in the "virtual" moment with their colleagues. This session's goal is to bring everyone together, be in the moment, leave worry and fear at the door, and have some fun. Teams are highly engaged and learn new skills and techniques for solving problems and creating solutions together.
Session Elements Include:
Creating Inclusive Mindsets and Cultures, Cross Collaboration, Busting Silos, Creating an Ensemble, The Power of Us Versus I, Building Trust, Team Innovation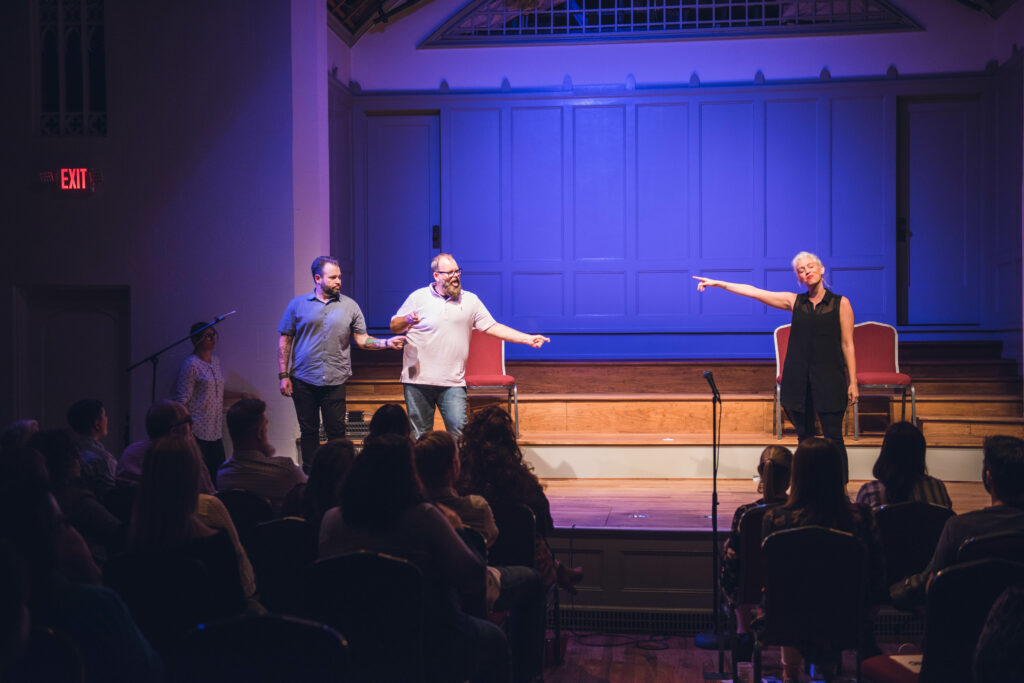 Entertainment and Event Support
Spice up your live or virtual event!
The great thing about improvisers is that they can work off-script, in the moment, and make it look easy. . Our talent consists of veteran improv actors from all over the world and whether you need entertainment or hosting, we've got your back!
Event Support Offerings Include:
Hosting/Emcee
Live Entertainment
Trade Show Talent
Comedic Video Projects
Panel Moderator
Want to Become a Social Impact Partner?
Stomping Ground Comedy Theater is a 501(c)(3) non-profit organization. Our mission is to educate, entertain, and empower the community – connecting people through comedy. And we won't stop till everybody's laughing.
When you hire Stomping Ground, you support our non-profit mission to help the community through comedy. Research shows that improv can have a positive effect on human emotions and improve life skills. It also promotes emotional and mental health; mindfulness, effective communication, and positive interpersonal connection are all naturally embedded in the practice of improv. Stomping Ground strives to spread the healing power of improv through laughter, outreach, inclusion, collaboration, and "coopertition" – which encourages learning from and assisting competitors to foster a more skilled and knowledgeable community.
We offer programming to people of all ages in the community with mental health difficulties, autism, dementia, brain injuries, and those experiencing homelessness. Stomping Ground partners locally with The American Heart Association, Big Thought, The Red Cross, The Dallas Museum of Art, Oak Hill Academy, NonPareil Institute, Austen's Autistic Adventures, City Square, Silver Pride Project, and many others to provide programs to their constituents. Stomping Ground has also presented at conferences with Alzheimer's Association, Global Alzheimer's Platform, REACH, and many more to share the power of improv. Our Improv for Caregivers program is currently being studied for its impacts on caregivers of people with Alzheimer's and dementia in partnership with UNT Health Science Center in Fort Worth.