Big Dang Friday
May 26 @ 9:00 pm

-

10:00 pm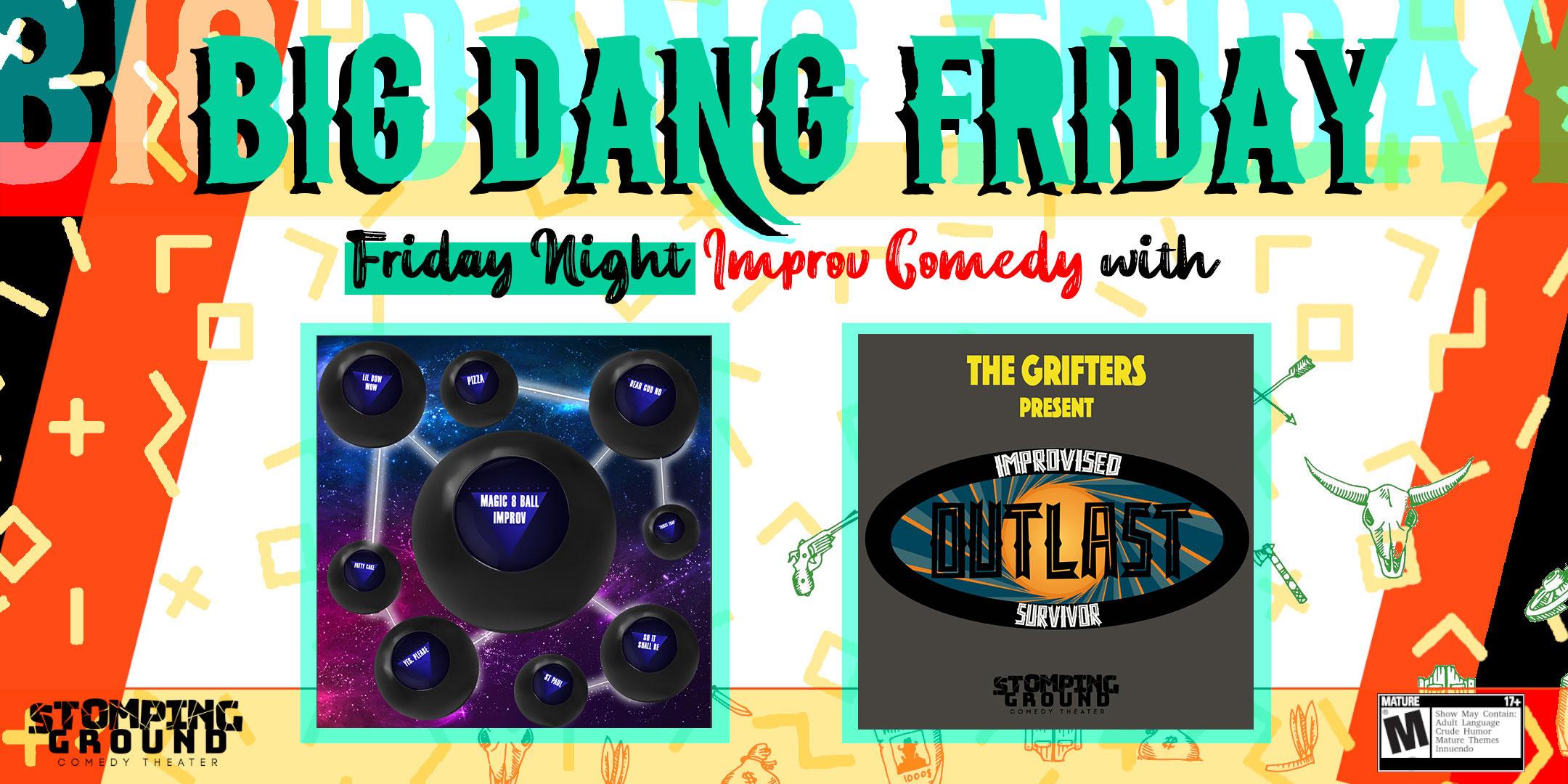 Live long-form improv featuring Magic 8 Ball and Outlast!
Friday night improv just got better; it's now Big Dang Friday! Tonight's big dang show features Magic 8 Ball and The Gifters performing a Survivor-style improv show!
Magic 8 Ball performs the iconic Harold improv format, a series of scenes seamlessly interwoven until they result in chaos. Magic 8 Ball is under the direction of Sarah Wyatt and features Ianne Warshawsky, Osahan Agbon, Jade Smith, Adam Mantelmacher, Tim Miller, Chris Arcy, Lara Gough, and Hemi Ahluwalia.
T?he Grifters are proud to present Outlast, a show inspired by iconic TV show Survivor. This improvised show features your favorite archetypes marooned as castaways. They compete in challenges for rewards and immunity from elimination and the drama ensues as they compete to outwit, outplay, and Outlast one another live onstage. The Grifters features Peter Van Nuys, Stephanie Bell, Milo Wilder, Spencer Walsh, Ashwin Vidiyala, and Jessica West. They are coached by Kimber Martin.
Ticket prices are $10 in advance and $12 at the door. Rated M for Mature/18+. Stomping Ground is BYOB.
To purchase group ticket sales (5 or more tickets) at a discounted rate email artistic@stompinggroundcomedy.org.
Stomping Ground follows current CDC recommendations regarding mask-wearing. Social distancing should be practiced and you're encouraged to purchase tickets in advance. Alcoholic beverages are allowed for all attendees over 21 years old; patrons are asked to enjoy them responsibly. For the most current information on what to expect when heading to Stomping Ground visit our FAQ page.