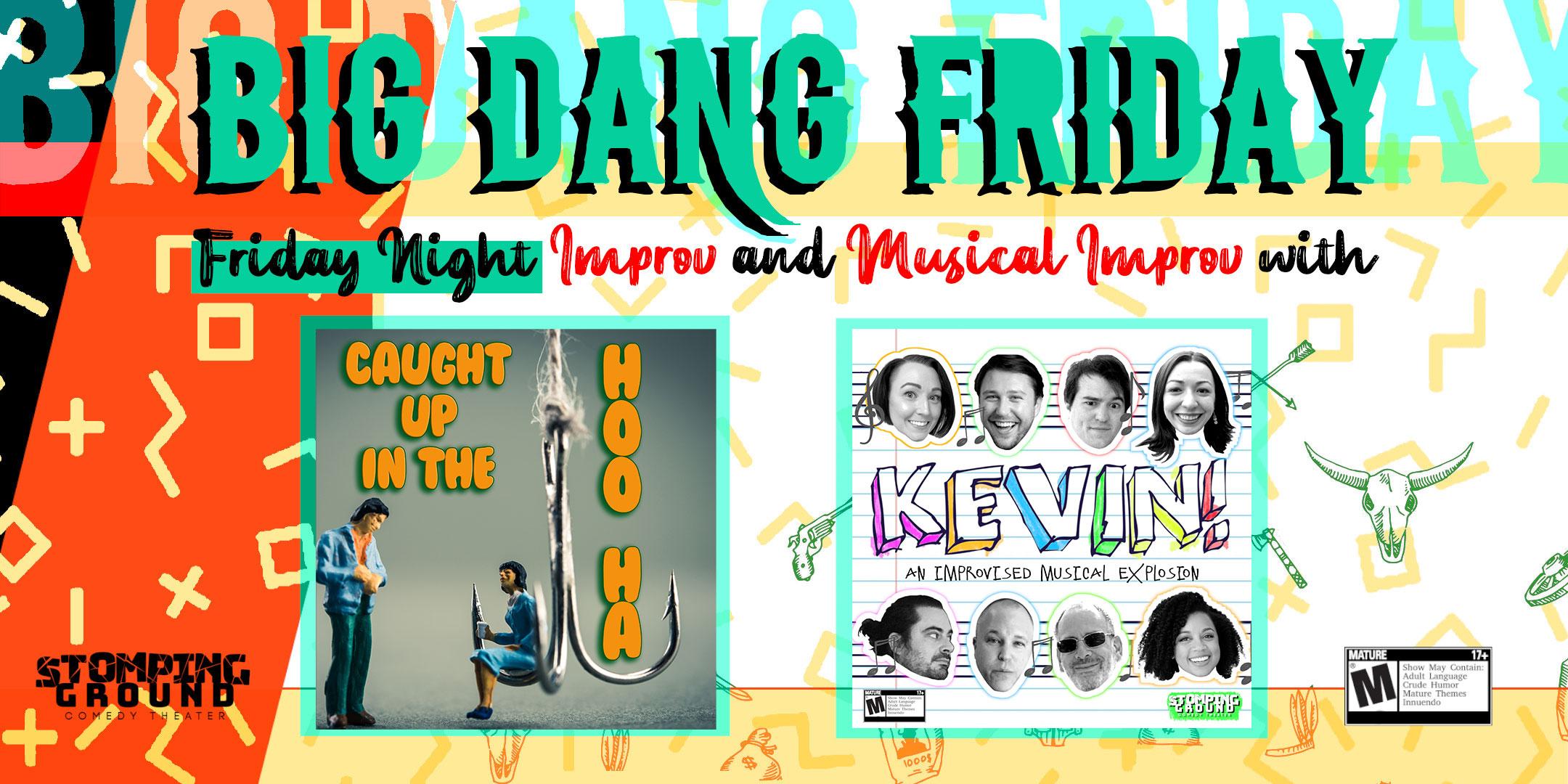 Live long-form improv featuring the brand new SG House Team Caught Up in the Hoo Ha and musical improv from KEVIN!
Friday night improv just got better; it's now Big Dang Friday! Tonight's big dang show features the brand new improv house team Caught up in the Hoo Ha and musical improv group KEVIN!
T?he brand spanking new improv house team Caught Up in the Hoo Ha is coached by Alexander Sudhir Joshi and Spencer Walsh and features long-form improv comedy from Ian Jungmann, Brian Graeme, Chioma Omeoga, Peter Van Nuys, Stephanie Bell, Carrie Sumner, and Sara Jackson.
KEVIN! will take you on a musical journey from beginning to end with big musical numbers, touching (and hilarious) ballads, on-the-spot choreography, and larger-than-life characters inspired by audience suggestion.
KEVIN! features Daniel Shimek, John Gerhardt, Lynsey Hale, Grant Hollowell, Shelby Harrison, Kelsey Satalino, and Patrick Murphy. Accompaniment by Stomping Ground Musical Director Joshua Diamond.
Ticket prices are $10 in advance and $12 at the door. Rated M for Mature/18+. Stomping Ground is BYOB.
To purchase group ticket sales (5 or more tickets) at a discounted rate email artistic@stompinggroundcomedy.org.
Stomping Ground follows current CDC recommendations regarding mask-wearing. Social distancing should be practiced and you're encouraged to purchase tickets in advance. Alcoholic beverages are allowed for all attendees over 21 years old; patrons are asked to enjoy them responsibly. For the most current information on what to expect when heading to Stomping Ground visit our FAQ page.