Saturday January 28 Show Pass
January 28 @ 7:30 pm

-

11:59 pm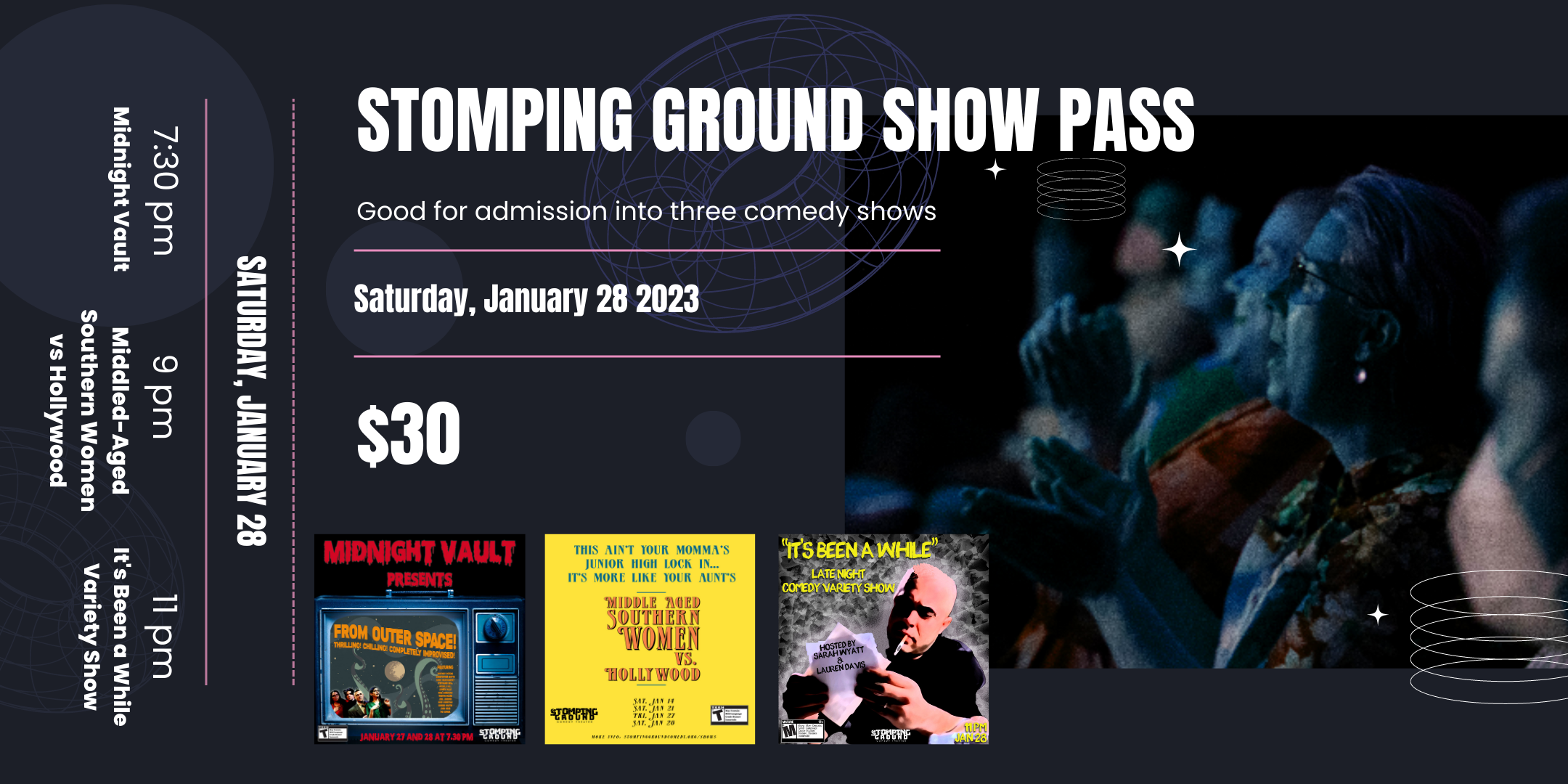 See two (or more) comedy shows for a discounted price!
Saturday, January 28 you can see Midnight Vault Presents: From Outer Space!, Middle Aged Southern Women vs Hollywood, and It's Been a While Comedy Variety Show all for $30 (that's more than 25% off)!
7:30 pm- Midnight Vault Presents: It Came from Outer Space! The Midnight Vault presents an improvised low-budget horror and sci-fi movie hosted by horror hosts Dr. SPLATula, BLOODona, and Seymore the Alien-Vampire Puppet in the style of late-night midnight movies. This month's installment is From Outer Space! inspired by movies like It Came From Outerspace, The Blob, and Killer Klowns from Outerspace! When a strange meteor lands in a small 1950s town, will the teenagers be able to convince the adults that there is an alien lifeform amongst them, gobbling up the citizens…or will the entire world be consumed? Come join us for all the campy and low-budget fun!
Midnight Vault features Christopher Smyth, Whitney Peters, Kimber Martin, Lynsey Hale, Ianne Warshawsky, Mike Christian, Josh Reus, Stephanie Bell, Michele Hill, Tristen Rouse, Mo Gowda, and Joel Jenkins. It also features and is directed by Greg Mihalik with technical direction by Justin Wayne. This show is rated T for Teen (Parental Discretion Advised. T
9? pm- Middle-Aged Southern Women vs Hollywood. This is Stomping Ground's first original scripted comedy and tells the story of two best friends, Barbara and Cheryl, who get in some hot water when they try to screen a homemade, faith-based version of Star Wars at their church's annual lock-in.
Middle Aged Southern Women vs Hollywood is written by Kent Wicklander and Houston Hardaway and features Sara Jackson, Shenelle Peart, Taylor Whitlow, Janie Breor, Jamie Zeske, Alida Liberman, Chandlor, Wright, Madeline Crank, Beth Jones, Roxanne Byrne, Kaitlin Sands, Averie Bell, and Emily Baudot. Technical Designer is Justin Wayne. Middle Aged Southern Women vs Hollywood is rated T for Teen (parental discretion is advised). Run time is approximately 1 hour and 45 minutes.
11 pm- It's Been a While Comedy Variety Show. Come to this late-night comedy show to make new friends and keep the old. This show brings Dallas comedy favorites back from Chicago, LA, New York, and their living room to the Stomping Ground stage- and pairs the with the new legends of the comedy community! Hosted by hometown heroes and former Los Angelenos Sarah Wyatt and Lauren Davis, this show will be a mix of old faves and hot new talents and end with a mash-up improv team of both.
This show is rated M for Mature/18+.
S?how Pass sales only available online in advance. No door sales. Stomping Ground is BYOB.
Stomping Ground follows current CDC recommendations regarding mask-wearing. Social distancing should be practiced and you're encouraged to purchase tickets in advance. Alcoholic beverages are allowed for all attendees over 21 years old; patrons are asked to enjoy them responsibly. For the most current information on what to expect when heading to Stomping Ground visit our FAQ page.