SG After Dark: Late Night Improv Comedy
April 1 @ 10:00 pm

-

11:15 pm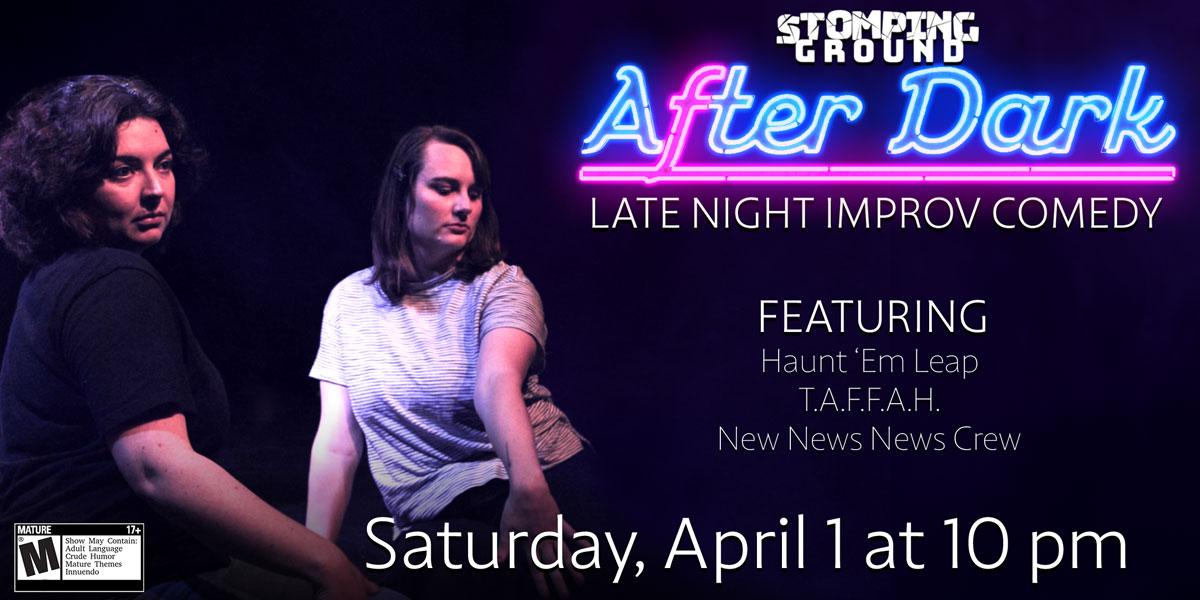 When the sun goes down DFW's best improv teams come out to play…and make you laugh.
W?hen the sun goes down DFW's best improvisers come out to play…and make you laugh. S?tick around after the early show or stop by after dinner to enjoy Stomping Ground's dirty little secret…late-night improv that will have you begging for more…
On April 1 you'll enjoy the comedic stylings of T.A.F.F.A.H., Haunt 'Em Leap, and New News News Crew.
Seven friends join together to create a labyrinth of laughs all stemming from one starting point, the audience's suggestion. This improv maze will twist and turn to the very end. You never know where you'll end up or if you'll get out.
T.A.F.F.A.H. features Kolin Jardine, Ianne Warshawsky, Carrie Sumner, Iain Dewar, Rebecca Zelensky, and Andrew McLaughlin.
Presenting a possession unlike any other, as a ghost struggles to tidy up their unfinished business. With the help of the audience, a new ghost with a unique (and often absurd) task is summoned each show. Haunt 'Em Leap features Shenelle Peart, Steven Place, John George, Lynsey Hale, Steven Martin, Josh Franklin, Libby Chase, Whitney Peters, and Mo Gowda. Direction and concept by Justin Wayne.
The New News News Crew, is here to bring the news to you! The New News News Crew is Dallas's premier improv news team, performing an entirely improvised comedy news program with help from the audience. The Crew will interview audience members about recent events in their daily lives (as they say, "in order to show the news, we have to know the news") and examine those stories from multiple angles to ensure that all sides are reported. Ultimately, it will be up to the audience to decide what the true story is. The New News News Crew features Brian Graeme, Joel Jenkins, Ian Jungmann, Shenelle Peart, and Joshua Reus, and is coached by Tristen Rouse.
Ticket prices are $10 in advance and $12 at the door. Rated M for Mature/18+. Stomping Ground is BYOB.
To purchase group ticket sales (5 or more tickets) at a discounted rate email artistic@stompinggroundcomedy.org.
Stomping Ground follows current CDC recommendations regarding mask-wearing. Social distancing should be practiced and you're encouraged to purchase tickets in advance. Alcoholic beverages are allowed for all attendees over 21 years old; patrons are asked to enjoy them responsibly. For the most current information on what to expect when heading to Stomping Ground visit our FAQ page.