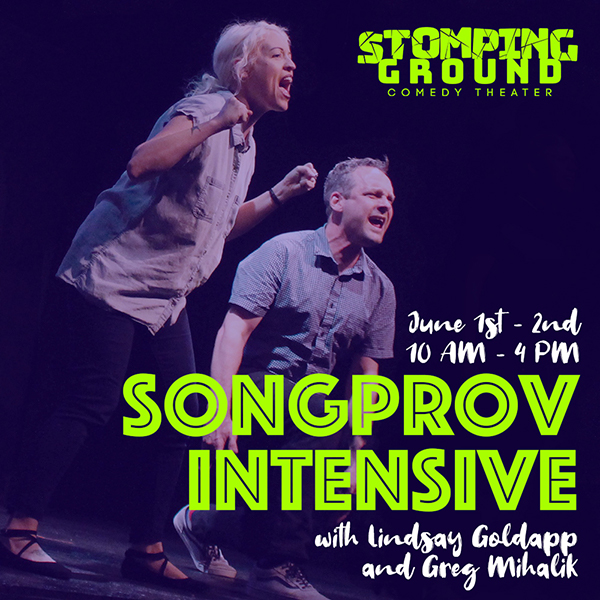 Spend the weekend at Stomping Ground learning how to create sweet, sweet scenes and songs on stage.  In this intensive course, you'll learn the fundamentals of song structure, how to create fun and catchy choruses that will get the audience singing along with you and verses with a point of view that really mean something!  You'll learn how to create big characters who sing their emotion at a 10, learn to move with the music, support the scene, and make every song a big musical number. And then you'll show it all off at the end of the weekend with a showcase Sunday, June 2 at 8 pm. Whether you have musical improv experience or just love to sing, this weekend will give you what you need to be a songprov rock star!  All skill levels are welcome. Limited spots available so sign up early!
Instructors
Greg Mihalik
Greg took his first official improv classes at the Hideout Theatre graduating from the improv and musical improv conservatory. He later moved to New York City where he completed the improv and musical improv program at the Magnet Theater and performed on musical and non-musical house teams, Pyros & Titan. In 2016 he moved back to Austin where he founded and coached the musical improv troupe, Human People, and co-founded the musical improv duo, Too Shy Guys. Greg is a middle school and high school theatre arts teachers who holds his state certification in Texas in Theater Arts K-12 and his BA in Theatre from Lehigh University and his MFA in Playwriting from Rutgers University.
Lindsay Goldapp
Lindsay has an Acting/Directing degree from Texas A&M-Commerce and is a graduate of Chicago's Second City Improv Conservatory. She spent several years in Chicago doing improv and sketch before settling in Dallas. She has 15 years of experience performing and teaching improv comedy, sketch writing and performance, comedic songwriting, improvised song, and musical theatre and has performed at Second City's Skybox and De Maat, Annoyance, Chicago Sketchfest, Dallas Comedy Festival, Theatre Three, and many more.
Must be 18 or Older to Purchase or Attend Class. All sales are final. Refunds are not available on classes but we are happy to shift your registration to a future class. Stomping Ground Students get free admission to all shows while enrolled in classes.